Introducing Inside Fintech Conference & Expo
Inside Fintech Conference & Expo explores Fintech 3.0, including Blockchain technology and other decentralized solutions for financial processes, and its impact on the global financial ecosystem. Hear from the finance industry's most forward thinking individuals as they seek to leverage advances in technology to improve payments, investment strategies, mobile banking, navigate the world of regulation, and more. We'll explore a unique chemistry between Fintech entrepreneurs, investors, bankers, and governments across Asia and the rest of the world.

Download the conference brochure to see why you shouldn't miss Inside Fintech Seoul!

Conference Chair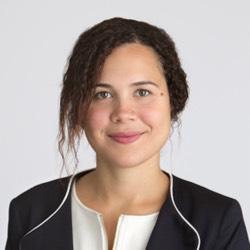 Iliana Oris Valiente, CPA, CA, CBP (Certified Bitcoin Professional) is widely credited for being a trailblazer in the blockchain space, having been among the first to recognize the tremendous impact of this traditionally "hacker" technology on the enterprise world. Her focus has been on exponential technology, entrepreneurship and bridging the gap between the corporate world and the start-up communities. Iliana is currently a Managing Director at Accenture, responsible for building out their blockchain practice with global scope. Additionally, Iliana is the founder and chair of the Board at ColliderX, a non-profit social venture and the world's first open source R&D hub for blockchain and related technologies. Previously, Iliana was the catalyst in getting Deloitte actively involved with all things blockchain, and founded the Rubix by Deloitte Blockchain practice in 2014. Iliana has experience providing advisory services and has overseen projects to conceptualize and prototype proof-of-concepts related to the impact of blockchain technology across industries, with a focus on FSI, Healthcare and the Public Sector. Iliana has strong views on how the network effects of this technology will impact multiple industry verticals, and how it will radically change status quo business models. Iliana is a sought after speaker, having presented at a number of North American and European conferences and events.


Who Should Attend?
Accountants
Banks and Financial institutions
Bitcoin Entrepreneurs
Brick-and-mortar merchants
Consultants
Credit and loyalty solution providers
Crowdfunding platform operators
Daily deal and group buying networks
Data and payment processors
Developers
Economists
Entrepreneurs and startups
Finance pioneers
Fintech innovators
Founders of early stage and emerging growth companies
Fund managers
Industry analysts
Legal professionals
Mobile wallet and mobile commerce providers
Online and non bank lenders
Online retailers
Public policy makers
Private equity, corporate, and venture capital investors
Regulatory compliance experts
Remittance specialists
Security solution and risk management providers